Doctor Malloy Visits China! Spine Experts Meet for the Spine MIS Forum in Shanxi
Bonovo-sponsored US Spine Expert, Dr. John Malloy attended the
"Typical Spine Case Study Summit: Spine MIS Forum" in TaiYuan, Shanxi in August 28, 2016
"Typical Spine Case Study Summit –Spine MIS Forum" combined with Spine MIS Training Session was held in TaiYuan, Shanxi Province on August 28th, 2016. The meeting was organized by the Orthopedics Branch of China Healthy Promotion Foundation, Orthopedics Online, the Spine Deformity Group, Orthopedic Committee of Chinese Medical Education Association and Shanxi Academy of Medical Sciences. Shanxi Dayi Hospital successfully hosted the forum. The President of COA and Beijing Jishuitan Hospital Prof Tian Wei and Prof Zhou Yue of XinQiao Hospital also gave wonderful speeches at the meeting. More than 20 famous spine surgeons specialized in MIS attended the meeting and participated in case study discussion.
As a co-sponsor, Bonovo invited Dr. John Malloy, a spine surgeon from East Coast Orthopedics PA, USA to attend the meeting through the BAA program. Dr. Malloy is very experienced in spine MIS surgery and he gave an excellent talk on "MIS Lateral Lumbar Fusion" using RTI CrossFuse. His talk triggered an intensive discussion on spine lateral fusion surgeries among the surgeons.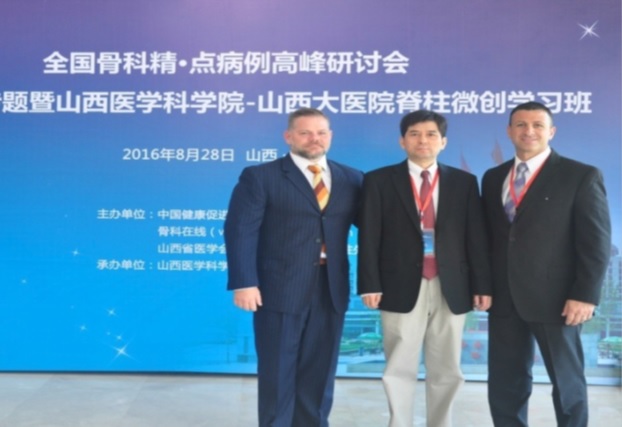 Above Left: Dr. Malloy speaking during the case study discussion with Chinese spine experts.  
Above Right: Dr. Malloy (right) at the conference with Prof. MA Xun and Mr. Mastrandrea.
Bonovo as an exclusive distributor of RTI/Pioneer products participated in the forum with a booth show. Dr. Dines De, Senior PM of Bonovo was offered an opportunity to give a talk on BacFuse, an interspinous process fusion plate during the satellite meeting. BacFuse is the only CFDA cleared device of the category in China, which attracted a lot of interests. Bonovo's China-north regional manager, Miss LI Jie, and Regional Sales Manager Leshem Ni, also attended the forum and gave an excellent introduction of Bonovo's products to all the attendees.
Malloy: Attends Typical Spine Cast Study Summit- Spine MIS Forum