Computer-Assisted Knee Replacement
Tremendous advances have been made in joint replacement surgery, making it a viable option for a greater number of people than ever before.
Dr. Janke, Dr. Naide and Dr. Malloy utilize computer-assisted technology to perform total knee replacement surgery. This advanced technique enhances results and recovery of a total knee replacement by providing more accurate placement and alignment of implants.
A Giant Step Forward in Joint Replacement
If you're reading this section, chances are you (or a loved one) are considering or preparing for joint replacement surgery.
You've likely tried several non-surgical therapies, including anti-inflammatory medication, injections into your joint and physical therapy.
Still, pain and limited movement may hold you back from doing the things you used to do without worry.
And now there's even better news.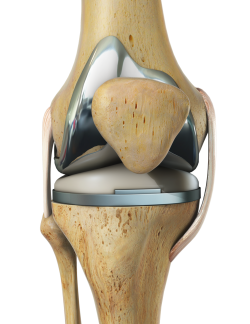 Over the past four decades joint replacement has been proven to relieve severe joint pain and restore joint function in over 90% of patients undergoing the procedure.*
As you read, make a note of anything you don't understand. Your doctor will be happy to answer your questions so that you'll feel comfortable and confident with your chosen treatment plan.
Leading Technology
During a joint replacement procedure, your surgeon will strive to ensure that everything is aligned properly. Accurate alignment of the hip or knee components is critical to the overall function of your new joint,1,2 and it also plays a role in helping your joint feel healthy again, and helping the joint replacement to potentially last longer.
Computer-assisted technology has made it possible for your orthopedic specialist to navigate joint replacement procedures with a level of accuracy so precise it may improve the results of your total knee replacement surgery.1
---
References
*National Institutes of Health Consensus Development Conference Statement: Total Knee Replacement, 12/10/03.
Sikorski JM, Chauhan S. Computer-Assisted Orthopaedic Surgery: Do we need CAOS? J Bone Joint Surg 2003; 85- B:319-23.
Noble PC, Sugano N, Johnston JD, Thompson MT, Conditt MA, Engh CA Sr, Mathis KB. Computer Simulation: How can it help the surgeon optimize implant position? CORR. 2003 Dec; (417):242-52.